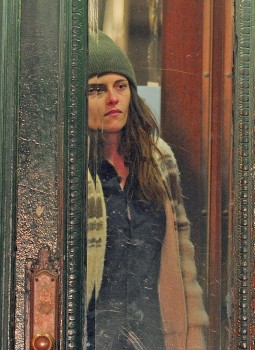 From Deadline
: EXCLUSIVE: Twilight's Kristen Stewart has joined the ensemble cast of writer-director Tim Blake Nelson's Anesthesia in a small role. She'll be shooting for a few days on the indie, about a group of New Yorkers whose lives are touched by the same philosophy professor. Pic is currently filming in NYC. Nelson's last directorial effort was 2009′s Leaves Of Grass, which he also starred in and scripted.
Information on the project:
Prod Weekly info about "ANESTHESIA" Feature Film 08-22-13
JOSH HETZLER PRODUCTIONS / ANESTHESIA PRODUCTIONS, INC.
STATUS: November 3 LOCATION: New York
PRODUCER: Josh Hetzler - Christopher Scott WRITER/DIRECTOR: Tim Blake Nelson PM: Julie Buck
PLOT: A group of New Yorkers dealing with various stages of life and its attendant joys and tribulations are all touched in some way by beloved philosophy
professor Walter Zarrow. (November 3 – December 10)
From Deadline:
Tim Blake Nelson is getting more company on his ensemble drama Anesthesia. The Lincoln actor wrote, stars in, and is directing the pic which follows the disparate stories of New Yorkers whose lives come together after the violent mugging of a Columbia University philosophy professor. Sam Waterston has been cast as said professor, Walter Zarrow. Oscar-nominated Glenn Close will play Zarrow's wife Marcia, with Corey Stoll (Midnight In Paris) as an investment banker who witnesses the attack and Gretchen Mol as his wife, an alcoholic New Jersey homemaker. As I reported Sunday, Twilight's Kristen Stewart has taken a supporting role in the ensemble drama; she'll play Zarrow's troubled student Sophie. Nelson will step in front of the camera himself to play Zarrow's son.
Also joining the microbudget indie are Mol's Boardwalk Empire costar Michael K. Williams, Jessica Hecht (Breaking Bad), Mickey Sumner (Frances Ha), and K. Todd Freeman (Teenage Mutant Ninja Turtles). Julie Buck, Josh Hetzler, Christopher Scott, and Nelson are producing the film which is now shooting in NYC. Anesthesia marks Nelson's fifth directorial feature. He's been busy lately with an upcoming acting slate that includes Tommy Lee Jones' The Homesman, Focus Features' crime pic Kill The Messenger, and James Franco's last five directing projects.
Nelson is repped by Gateway Management, UTA, and Stephen Breimer and Marc Glick at Bloom, Hergott, Diemer, Rosenthal, Laviolette, Feldman, Schenkman, and Goodman. Close is repped by CAA and Loeb & Loeb. Waterston is repped by The Gersh Agency and Industry Entertainment. Stoll is repped by UTA and Suskin Management. Mol is repped by ICM Partners and John Carrabino Management. Williams is repped by ICM Partners and Imperium 7 Talent Agency. Hecht is repped by Innovative Artists and Wright Management. Mickey Sumner is repped by ICM Partners and Barking Dog Entertainment.
Le tournage a commencé il y a 3 jours à New York. C'est un projet surprise de Kristen, dont on a appris l'existence le jour du début du tournage. C'est un film indépendant, et Kristen a un tout petit rôle, celui de Sophie, une jeune étudiante troublée. Elle est cependant prévue que pour quelques scènes, et ne tournera que quelques jours